The Labyrinth of Kypseli | SCALE # 2:100 (2015)
The Labyrinth of Kypseli, an ephemeral art project in one of the most densely populated areas of Athens, around the experimental art space bhive, with the support of NEON Organization for Culture and Development.
Production | KUNST-STOFF | Yannis Adoniou
Curators | Yannis Adoniou, Gerasimos Avlamis, Stavros Apostolatos
The project is based on an initial idea of Gerasimos Avlamis
Photographer | Dione Angelopoulou

SCALE # 2:100 | The Labyrinth of Kypseli
Public art transforms a cityscape, even a simple art of walking down the street.
8 artists inhabiting inside empty squares, empty shops, terraces and basements, create ephemeral art projects, extend them like a ball of yarn and invite us to escape the Labyrinth of Kypseli through active streets, outdoor dance performances, installations, spontaneous orchestral performances and urban vegetable gardens.
The idea of a temporary public art project that enhance the quality of life was to revitalized Kypseli, inspiring members of the community to get involved and create a longer-term legacy of positive and sustainable transformation, square by square, street by street and step by step as they are been led through from one location to another.

Labyrinth of Kypseli | SCALE # 2:100 develops a route that starts from inside the experimental art space bhive (Mythimnis 18), and continues in the area of Kypseli in 7 locations.
The Labyrinth of Kypseli unwinds among the works of the following artists:
#1) Konstantinos Patsios #2) Yannis Adoniou, Stavros Apostolatos, Anastasia Brouzioti, Yiannis Tsigkris #3) Gerasimos Avlamis, #4) Yannis Tsigris #5) Eugenia Arsenis #6) Anastasia Brouzioti #7) Dionisis Christofilogiannis, Yannis Adoniou, Harriet Summer.


Open Experience, Performance every Tuesday and Friday (20:00 to 21:30)
Inside -and specifically in the second floor- of bhive viewers are invited to become part of the happening in an Open Experience that appeals to the senses. Where, the creators of the project The Labyrinth of Kypseli relax the boundaries between performer and viewer, creating for ninety minutes, an environment where the distinction between performer and public, leaders and followers is obscured. In an «in vivo» exchange in real time with multiple actions and reactions probabilities.

#1) Temenos – Konstantinos Patsios | 19:00
An installation of heterogeneous materials: a plastic column, a supermarket trolley full of plaster carvings, Buddhas, dwarves, the sketch of a skull in a baroque frame. The Temenos, inside bhive looks like a modern Doric temple with pop references at kypseliotiko lounge.
#2) Fish on the Roof – Yannis Adoniou | 19:20
Yannis Adoniou, Stavros Apostolatos, Anastasia Brouzioti, Yiannis Tsigkris
On the terrace of bhive four bodies exposed to the environment survive in a world that is constantly changing. The actions intertwined with the sounds of the city and vice versa. An echo of their own existence. In a relationship with everything and everyone addressed to local residents as part of the reality experienced on the "open - closed" microcosm. The audience watching from a distance, like a spectator in the arena, up from the neighboring terraces, the struggle for survival or coexistence until drop.
#3) Rethink about shared spaces in new ways – Gerasimos Avlamis | 19:50
Constructions with no permanent character is the goal of the physical architecture proposed by Gerasimos Avlamis in a fenced plot (on Drosopoulou and Tenedos corner) which sets up a bizarre mechanical plant, among others, truly and, an improvised orchestral performance. Viewers around the fence are experiencing the work, improper overtaking privacy. Because what we can share is better than what is shared!

#4) 23 – Yannis Tsigris | 20:15
An empty shop (at number 78 of the street I. Drosopoulou) borrows the shape and rhythm of the body of a dancer / choreographer and between our reflections, as we see the spectacle outside the showcase, gradually the space turns into cubic - puzzle!
#5) Facing loss… – Eugenia Arsenis | 20:35
In the basement of Thira street, Eugenia Arsenis invites us to a story with memories as its heroes, those of our childhood and youth, where the personal memory becomes collective. Sounds, images, sensations of the past through the viewpoint of the present on a life-scale. Her installation Facing loss... is a journey to those we believed they would last forever.
#6) Μoving Pictures by AlmaLibre.co – Anastasia Brouzioti | 20:55
Three dancers and one musician, placed on an underground urban garden on Thira street, experiment by combining sound and movement, inspired by the image of Cerberus -the dog with three heads and tail like a dragon's head. These three personalities, doomed to dependence and feelings alternate often led to situations out of control.

#7) HOME(less) – Dionisis Christofilogiannis| 21:15
Yannis Adoniou, Harriet Summer.
"The other Arcadia" Foundation presents at Fokionos Negri 16 HOME(less) by Dionisis Christofilogiannis, an installation where sculpture, painting and performance are in direct dialogue. The Greek artist gives a second life to pieces of old wooden furniture collected from the streets of Athens and covers them with white embroidered crochet and white plaster. Along with Christofilogiannis sculptures and paintings there is also his new video screening (camera, editing: Yiannis Myronidis), a performance by the choreographer Yiannis Adoniou. Wearing a full body costume made of white crochet, Adoniou performs physical exercises. Harriet Summer, a black British performer, conflicts with the hegemony of white, addressing at the same time, social, political, gender and national identity issues. The exhibition inspired by the whitewashed architecture of Le Corbusier, curated Konstantinos Argianas, comments on the contemporary social, economic and political disorder where the right to housing, a fundamental human right, is placed under constant questioning.

Walking the Labyrinth in Kypseli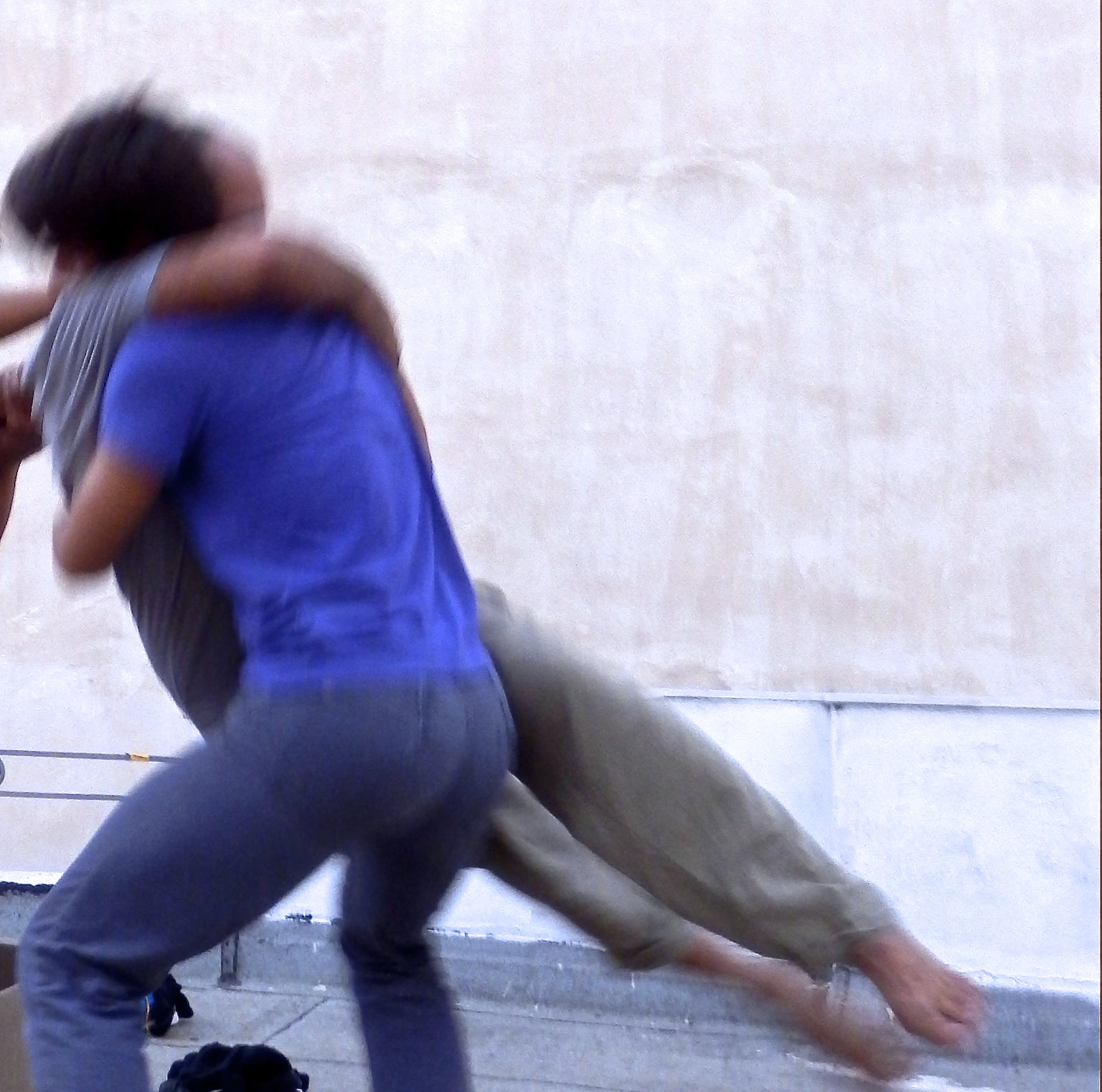 with the support of NEON Organization for Culture and Development.